Sign in and cast your vote for the People's Choice Award.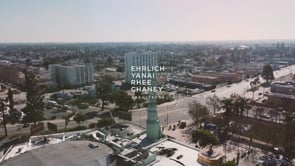 Author: Evan Koester
Title: Leimert Park Community Fridge
Category: Justice & equity
Description: The Los Angeles Community Fridges is a growing mutual aid network that promotes equal access to healthy food. Neither government-funded nor a charity, these fridges present an alternative framework for resource redistribution, emphasizing the horizontal sharing of resources at the neighborhood scale. In September 2020, members of the firm's newly established Design Justice Committee came across an announcement on Instagram, calling for volunteers to help construct protective shelters for the Los Angeles Community Fridges. Seeing this as a unique opportunity to apply our skills as designers and builders to a cause very much aligned with our core values, we undertook the project from design to construction to installation within a span of a couple months. The completed fridge structure now stands in the heart of Leimert Park, where it provides free food and supplies to its community daily. The fridge structure is already gaining traction as a functional and modular template which can inspire future projects.