Sign in and cast your vote for the People's Choice Award.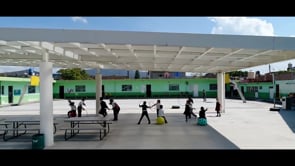 Author: Rachel Allen
Title: Comedor al Aire Libre
Category: Health & wellness
Description: San Miguel Emenguaro, Mexico. One elementary school: a nice large playground, but it was sunny and exposed. RADAR Team Member Karina's parents emigrated from San Miguel; it was their expat group in Ojai, California that identified the need for a shade structure and raised the seed money that made this project possible. RADAR was honored to participate. Working closely with the school and the State of Guanajuato, RADAR developed an efficient and elegant design for a shade structure. Now the school has a fun and comfortable place to eat, and to play.