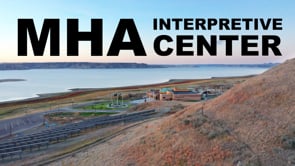 Author: Monica Hendrickson
Title: Regenerative Architecture on the Mandan Hidatsa Arikara Nation
Category: Zero-carbon & resiliency
Description:
The MHA Interpretive Center is located on the homelands of the Mandan, Hidatsa and Arikara Peoples. These three distinctly individual nations call this place home and share a common story after coming to live along the Missouri River.
The interpretive center overlooks Lake Sakakawea, the United States 2nd largest man-made reservoir.
The creation of  the lake via the Garrison Dam forced the displacement of members of the Fort Berthold Indian Reservation from their villages of Van Hook and (old) Sanish, which were inundated by the creation of the lake. It's notable that predominantly white towns were purposefully spared by the Army Corps.
In 2003, the Mandan, Hidatsa and Arikara (MHA) Nation, was awarded federal funding along the Lewis and Clark Trail.  Unfortunately, the Tribe ran out of funds to build the complex.  14 years later, with newfound wealth derived from Tribally owned oil wells, the project came back to life.  Almost 20 years after the first design meeting, the facility is now complete.
The intensive process between the three affiliated tribes was important because they needed to capture each of the three communities' interpretation of the timeline.  How they got there. How they struggled. How they survived disease, displacement and flooding.  How they were resilient.
Unique building features include:
A museum-quality archive space makes it possible for the MHA Nation to repatriate items to bring them home.
A sound recording studio for elders to share stories in their native languages.
A representation of an earth lodge, important to the culture.
Sustainability features were widely used in an effort to be energy efficient.

There is a roof garden and native vegetation planted throughout the site to maximize passive solar energy and help with rainwater mitigation.
The site takes advantage of geothermal energy to reduce the building's heating load.
A solar array which offsets the energy costs of the building making it the second Net Zero energy building in North Dakota.