Sign in and cast your vote for the People's Choice Award.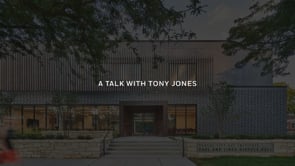 Author: Ashley Veurink
Title: A Talk with Tony Jones
Category: Justice & equity
Description: During a September 2015 talk give to alumni at the 50th anniversary exhibition for the Kansas City Art Institute's Foundation program, then interim president Tony Jones stated, "KCAI is not an institution that is sitting still." As as his tenure unfolded over the next seven years, Tony's time with KCAI was marked by exemplary leadership. He launched a new major and two new minors. oversaw major renovations to several existing facilities, and opened four new buildings cross the 15-acre campus. The most recently-completed project, and Tony's last before completing the chapter on his time at KCAI and beginning another on retirement, was Paul & Linda DeBruce Hall. When Paul & Linda DeBruce Hall ("DeBruce Hall" for short) was completed, it was a time of deep uncertainty. It was the summer of 2020, and KCAI faculty and staff were navigating the unknown, unsure of when they would be able to welcome students back on campus. Now, two years later, DeBruce Hall is serving the purpose it was designed to meet. Consolidating student services and some of the foundational liberal arts and art history curriculum, DeBruce Hall is a building every student interacts with during their time at KCAI. More importantly, though, it is a place for students to ask deep questions as they begin their arts education. It's a safe space for candid conversations discussing the larger issues - race, gender, equality, equity and access - impacting local, national and global politics; higher education; the arts industry; and, their futures. This film shares the story behind the goals and design of DeBruce Hall.