Sign in and cast your vote for the People's Choice Award.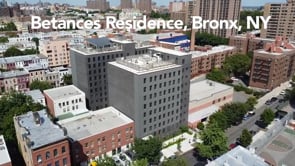 Author: Bilyana Dimitrova
Title: Betances Residence, Bronx, NY
Category: Justice & equity
Description: This film features Betances Residence, a new "Passive House" supportive residence for formerly homeless and low-income seniors in the Bronx, NY. The 152-unit building is the result of the collaborative efforts of Breaking Ground and COOKFOX Architects that both believe in sustainable design, creating permanence for people who have not had permanence before and that good design promotes well being. This film illustrates that it's possible to build high quality affordable housing that's good for the environment and how that helps the residents live better lives.