Sign in and cast your vote for the People's Choice Award.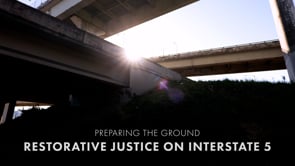 Author: Lahmi Kim
Title: Preparing the Ground: Restorative Justice on Interstate 5
Category: Justice & equity
Description: The original construction of I-5 displaced the heart of Portland's Black Community. It claimed their land, homes, and clean air, disrupting businesses and community continuity. Black Portlanders were forced to start over without adequate compensation, making it difficult to build generational wealth. The Oregon Department of Transportation's project to build a highway cover over I-5 in Portland, Oregon is poised to give some of that land back, but its goals fell short with the community it was intended to serve. The Independent Cover Assessment team engaged multiple stakeholders and community members in an independent and transparent process to examine how a highway cover can lay the groundwork for restorative justice. While this highway project cannot undo all the damage that was once done, it can provide a foundation to build on for generations to come.