Who wins the People's Choice award? You choose!
Voting is simple. View this year's submissions by clicking the video tiles below. Then vote for as many films as you'd like, up to once an hour per film. Sign in before you vote using Facebook, LinkedIn, or Twitter. Voting ends September 27.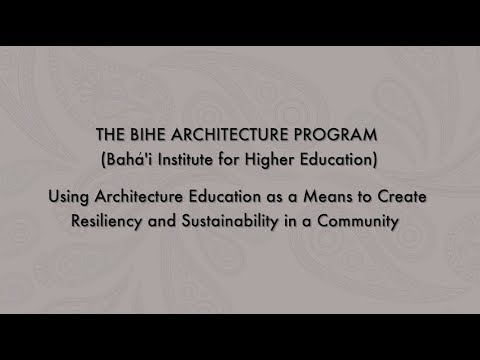 Author: Mitra Kanaani
Title: The BIHE Architecture Program (The Baha'i Institute for Higher Education): Using Architecture Education as a Means to Create Resiliency and Sustainability in a Community
Description: This film is about the story of how architecture education has become a means and a solution to transform a major social and political issue of a community of minorities in its most positive possible manner. After failed attempts to persuade the government of Iran to admit qualified Bahá'í students to universities, Baha'is rallied their limited resources to make higher education available to their youth and young adults. In a collective effort, a small core of professors, lecturers, practitioners and researchers who had been discharged from their jobs because of membership in the religion with the help of outside educators and practitioners worked on developing an informal network of higher education. These efforts culminated in the establishment of the BIHE (Baha'i Institute for Higher Education) in 1987 and formation of its Architecture Department in 2005 through collaboration of a handful of volunteered architect practitioners and educators inside and outside of Iran. Despite tremendous logistical constraints and the Iranian authorities' attempts to shut BIHE down through raids, arrests and imprisonment of key faculty and staff, the university has been producing impressive results, with many of its students continuing to Master and Doctoral programs in universities in the U.S. and other countries.
Votes: 22138
Views: 135050