Sign in and cast your vote for the People's Choice Award.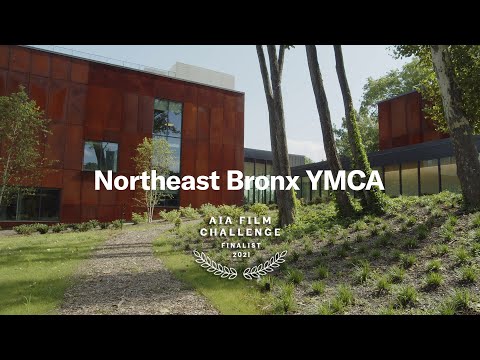 Author: Timothy Gersten
Title: Northeast Bronx YMCA
Category: Health & wellness
Description: Set to open in September 2021, Marvel and the YMCA's newest facility in the Northeast Bronx is a project decades in the making. Community activists and politicians have been working together for thirty years to create this focal point for the entire neighborhood—a space that would allow all ages to gather, learn, and play. Located alongside NYCHA's Baychester and Edenwald Houses, this new dynamic YMCA campus took extensive inspiration from the site's original forested land. A glass corridor seamlessly connects the three main pavilions, which are all situated around a central courtyard, celebrating the existing one hundred year old trees that enhance this unique building in a natural gesture. The YMCA building also includes two swimming pools, a 7,200 square foot dividable gymnasium, wellness center, teaching kitchen, rooftop garden, childcare, group exercise studios, and sub-dividable community and multipurpose rooms. The double-height entry lobby in the Main Pavilion will open onto a plaza which provides space for outdoor activities. Marvel leads innovative projects designed to inspire and connect us, addressing today's needs and anticipating tomorrow's challenges. For more than 35 years, Marvel has successfully navigated the art and business of architecture and landscape architecture, and has earned an award-winning reputation for designing at the intersection of public and private space.